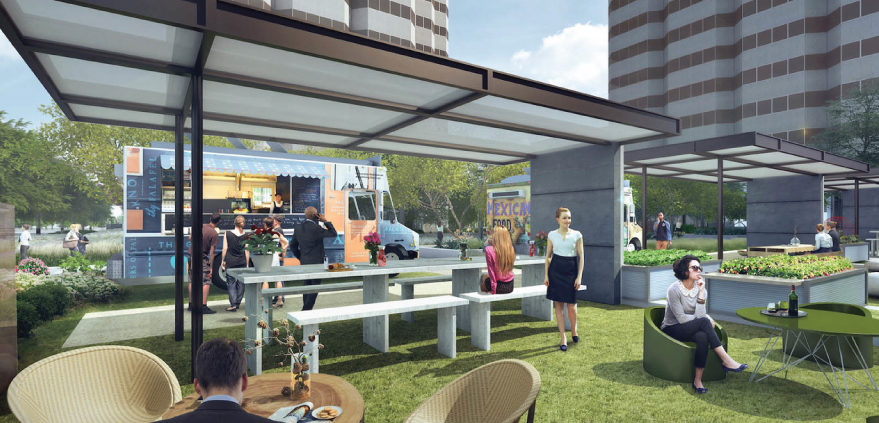 2017 – OC WEEKLY
March 14 2017
Published: OC WEEKLY
Author: Cynthia Rebolledo
OC Gets its 1st Permanent Food-Truck Lot at The MET Costa Mesa
While the SanTana City Council is trying to ban taco trucks (#carneasadaisnotacrime), the city of Costa Mesa is welcoming Orange County's first permanent food truck park at The MET, a vertical creative campus consisting of three 12-story office towers and a three-story 24 Hour Fitness Sport facility.
"We are looking to provide a daily diverse, and vibrant culinary experience doe tenants and visitors with the 'Food Truck Runway' here at The MET", says owner and manager, McCarthy Cook & Co.
They have hired Karen DiEugenio, a luxe lonchera Bacon Mania to curate the daily truck rotation as well as operate Verde Kitchen, the new on-site café lounge that will compliment the selection of food trucks on campus. DiEugenio looks to assure that there will be a variety of trucks from Orange County (as well as possibly hosting visiting trucks from LA and IE) along with organizing special events like farmer's/artisan markets, concerts, movies, and tap takeovers to create an exciting experience for tenants as well as visitors to the campus.
"The Food Truck Runway as The MET will finally give Orange County food trucks a stage on which to shine," says DiEugenio. "truck parks like this create a stabilizing effect on the industry, and provide opportunities for food trucks to be seen by people who might not be truck chasers or brewery patrons or concert goers. This translates into catering gigs, more profitability, and truck longevity."
Connected to the Runway will be three comfortable seating and social areas offering a shaded outdoor dining retreat for tenants and visitors. Each seating area will also feature urban planter beds with fresh vegetable and herb gardens growing produce for Verde Kitchen to be offered in their daily select "Farm to Fork" menu items.
There will be permanent bays for three food trucks, one of those spots each day will be occupied by a resident food truck and the remaining two spots each day will be filled on a rotating basis from a pool of food trucks like Hobo Pizza, White Rabbit, Piaggo on Wheels, SOHO Taco, Dogzilla and many more.
The whole community is encouraged to visit the Food Truck Runway and enjoy all that the campus at the MET has to offer. Parking is available for outside guests (a 15-minute grace period), and the new Verde Kitchen will validate parking for café and food truck visitors. The expansive 15-acre campus along the 405 freeway is slated for a grand opening in Summer 2017. In the meantime visitors are welcome to visit and grab a bit from the rotating collection of trucks serving lunch daily from 11 a.m. – 2p.m. See you there!
https://www.mccarthycook.com/wp-content/uploads/Untitled-3-9.jpg
592
879
Taylor Cotton
http://www.mccarthycook.com/wp-content/uploads/MCC.color-01-1.png
Taylor Cotton
2018-01-02 12:14:21
2018-03-07 10:54:43
OC Gets its 1st Permanent Food-Truck Lot at The MET Costa Mesa